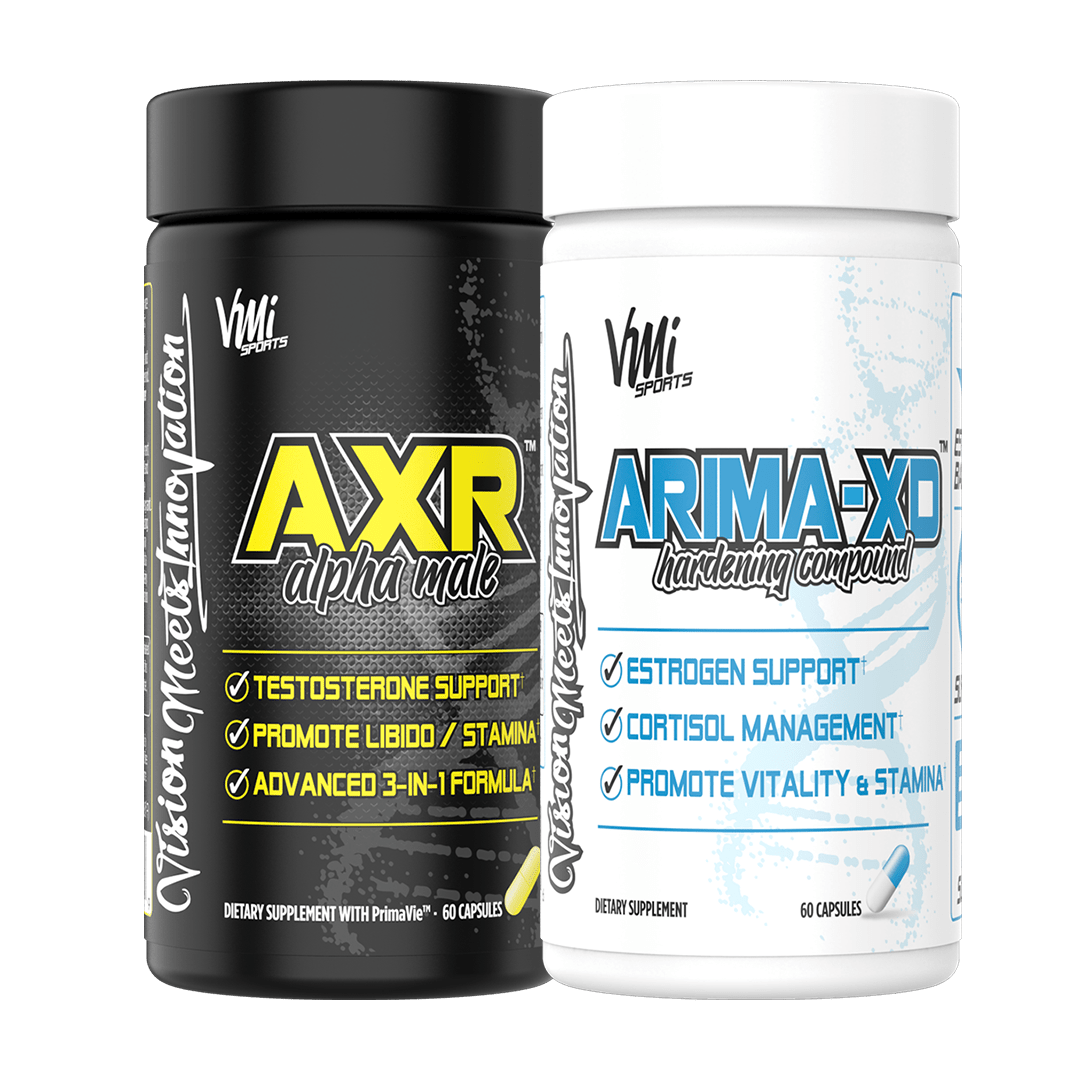 ON / OFF CYCLE STACK - ARIMA-XD + A-XR Alpha Male Testosterone Support
Arima-XD is the ultimate aromatase inhibitor and cortisol blocker that can be taken on & off cycle to achieve a dry, hard, and chiseled physique much like Arimidrol™.
A-XR PCT™ with Acacetin is a full-spectrum PCT supplement, designed to help boost testosterone, regulate estrogen production and enhance vitality.
BENEFITS
DOMINATES ESTROGEN: Arima-XD contains maximum strength aromatase inhibitors & cortisol blockers, with the goal of regulating estrogen production in the body. Shilajit (PrimaVie®) and Tribulus Alatus are the testicular workhorses in A-XR PCT™ that enhance natural testosterone production coming off cycle.
BUILDS MUSCLE: Our PCT supplement optimizes hormone levels following an aggressive supplement cycle, to ensure any gains made are kept long term.
INHIBITS AROMATASE: Arima-XD uses the most powerful all-natural aromatase inhibition agents, including calcium-Di-glucarate along with chrysin (5 7-dihydroxyflavone). The targeted goal is to promote the inhibition of the aromatase enzyme from converting androgens to estrogen.
HORMONAL BALANCE: Arima-XD contains an advanced formula combination such as Indole-3-Carbinol and Diindolylmethane (DIM), which is known to help balance out and optimize hormone levels.
PROMOTES MUSCLE GROWTH: Decreasing estrogen production naturally boosts testosterone levels, leading to better muscle growth and recovery.
INCREASES LIBIDO: Optimal hormone balance and regulation from Arima-XD supports and enhances drive and performance. Our A-XR PCT™ supplement activates greater Luteinizing Hormone (LH) production, igniting testosterone production and radically increasing libido.